Trust Wallet (TWT) was regarded as one of the top cryptocurrencies that experienced massive growth in recent days, despite the significant ongoing crisis in the cryptocurrency markets. Many cryptocurrencies fell precipitously in the aftermath of the FTX-SBF-Alameda crisis, but Trust Wallet (TWT) maintained its bullish trend and gained significant support during this time.
This is why the crypto industry's biggest whales predict that TWT cryptocurrency will increase 100 times by 2023. TWT has risen by approximately 90% in the last few days. The incredible surge also caused the token to reach a new high of $2.40 on November 14.
Top cryptocurrencies showing growth right now against the backdrop of falling bitcoin

Go register and trading ⛽ https://t.co/O1fQHWRyxE#REDTOKEN #KIN#MUSE#BLANKV2#MLS#TWT#TORN#AMPL#XMON#ISKY#CryptoNews #CryptoSignals #cryptopump #trading #cryptocurrency #DeFi #web3 pic.twitter.com/2HJrhzjNrj

— Crypto News 🌋 Best crypto 24 ⛽ (@MoneyCryptoFree) November 14, 2022
However, positive remarks made by Binance CEO Changpeng Zhao could be attributed to its upward rally and growing popularity. It's worth noting that Binance's CEO, CZ, tweeted about the Trust Wallet app and emphasized the advantages of storing bitcoin in a Trust Wallet rather than a centralized exchange.
TWT's price increased this month as traders moved away from centralized trading platforms and into wallets.
👇 4) #Trust Wallet Token rallied +12% last 1w as CZ tweeted about the importance of crypto self-custody and encouraged people to use the protocol's Trust Wallet. With the losses from FTX's collapse still fresh, many investors are turning to self-custody solutions. Mkt cap $930m;

— Markus Thielen (@DeFiOnTarget) November 25, 2022
Aside from that, the mild recovery in the crypto market, fueled by Fed Chair Jerome Powell's dovish stance, was viewed as another major factor that kept cryptocurrency prices high, including Trust Wallet Token (TWT).
Meanwhile, the bearish US dollar, which has dropped more than 1.5% to a three-month low, has also played a significant role in supporting cryptocurrencies.
Powell: "The time for moderating the pace of rate increases may come as soon as the December meeting." https://t.co/YlZFha3ktg

— Nick Timiraos (@NickTimiraos) November 30, 2022
The price of Trust Wallet Token is currently $2.06, with a 24-hour trading volume of $44 million. Trust Wallet Token has lost less than 0.50% in the last 24 hours. TWT is currently ranked #50, with a market capitalization of $859 million.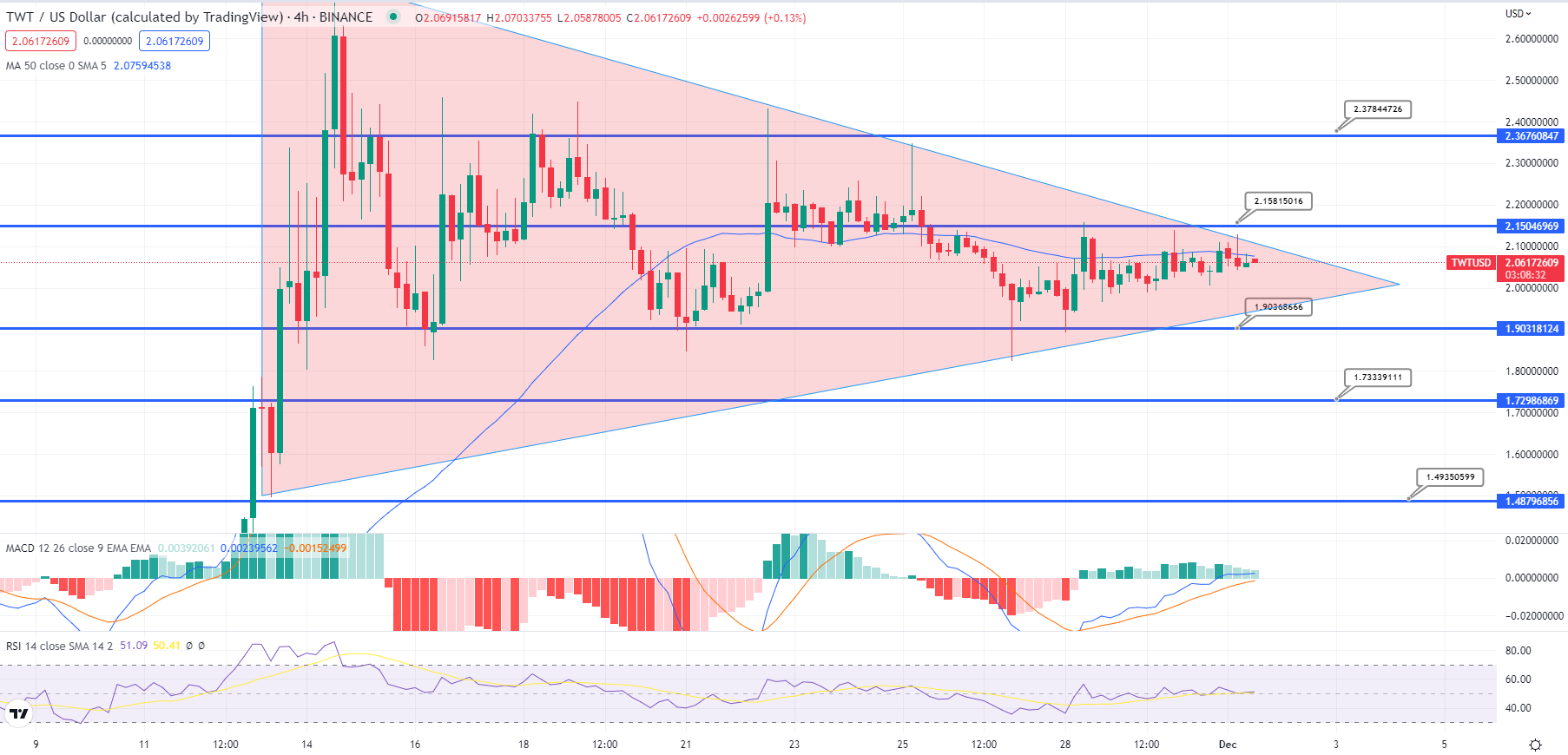 The total number of TWT coins in circulation is 416,649,900, with a maximum supply of 1,000,000,000 TWT coins.
Mild Growth in the Crypto Market
The global cryptocurrency market has been struggling in recent weeks, but it has managed to halt its decline and make a small recovery today. Bitcoin (BTC) and Ethereum (ETH), two of the most valuable cryptocurrencies, surpassed $17,000 and $1,200, respectively.
Dogecoin (DOGE) and Litecoin (LTC), two other well-known cryptocurrencies, have also seen significant increases. The upbeat cryptocurrency market, on the other hand, was seen as another important factor that supported the Trust Wallet (TWT) currency.
After the #FTXbankruptcy, the market showed the first signs of rebound, the total value of the #cryptomarket has increased by more than $12 billion in the last 24 hours📈#Bitcoin rose about 1.5% to just above $16,600, and #Ethereum also rose to more than $1,200🪙 pic.twitter.com/SWUfKplsXy

— NFT ERA (@NFTERA_Media) November 25, 2022
The reason behind the upbeat market sentiment could be dovish comments by Fed Chair Jerome Powell, which suggests a reduction in the pace of interest rate hikes.
Breaking News: Jerome Powell suggested that the Federal Reserve could begin slowing its pace of interest rate increases as early as December. https://t.co/SB5DUnU9nh

— The New York Times (@nytimes) November 30, 2022
It should be noted that the markets are pricing in an 80% chance that the Fed will raise rates by 50 basis points at its upcoming meeting, against a 20% possibility of another 75-basis-point boost.
Bearish US Dollar
The weak US dollar was another important factor in keeping the Trust Wallet (TWT) coin's price stable. The broad US dollar has been performing poorly recently, as the Federal Reserve's less hawkish stance has had little impact on the currency's value.
The dollar fell more than 1.5% against the yen on Thursday, hitting a three-month low after Fed Chair Jerome Powell suggested that rate hikes in the United States could be slowed as early as December.
Markets are pricing in an 80% chance that the Fed will raise rates by 50 basis points at its upcoming meeting, against a 20% chance of another 75-basis-point increase, according to CME's Fed watch tool.
Top Coins in the Highlights
Given the variety of cryptocurrencies, selecting one to invest in may be difficult. Many investors consider funding low-cost cryptocurrency projects at some point. These digital currencies, which have a token value of $5 or less, could be an excellent addition to most portfolios.
Despite a slowdown in the cryptocurrency market, the currencies listed below are excellent additions to our portfolio.
Dash 2 Trade (D2T)
Dash 2 Trade is an innovative concept, which has the potential to make it the next well-known currency in the volatile world of cryptocurrencies. It is a relatively new cryptocurrency venture with a practical application that few others can match. Dash 2 Trading offers a variety of trading services using its own D2T token.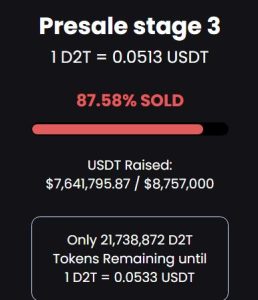 Dash 2 Trade, a social trading and cryptocurrency analytics service, accepts the ERC-20 token D2T as the project's native coin. Dash 2 Trade provides unique trading signals that consider both technical and social factors in order to propose lucrative trading techniques. The presale began in mid-October, and within the first 24 hours, it had generated $500,000, increasing the total amount raised to $1 million.
Dash 2 Trade provides high-quality trading insights and signals to help cryptocurrency traders profit in the market. Currently, the platform's native D2T token will easily be the most promising pre-sale project of the year. #USDC #LTC #LEO #ETC pic.twitter.com/pBYD5yeZ6M

— Brianna (@Irwincwuddle) December 1, 2022
Furthermore, Dash 2 Trade provides superior technical indicators for experts, such as order book data and linear regressions, to help them make educated judgments and improve risk management. Dash 2 Trade's whitepaper says that the platform will also evaluate new cryptocurrency presale projects based on a number of factors to make sure investors trust the projects.
📣 Attention #D2T Crew! 📣

💰 We have just reached another milestone – $7,000,000 💰

⏰ Stage 3 of our presale is selling out fast and the price will increase soon ⏰

Don't waste time and buy $D2T now! ⬇️https://t.co/ExvBBjKIU6 pic.twitter.com/QNVLL0ZT98

— Dash 2 Trade (@dash2_trade) November 25, 2022
More than 70,000 investors have already invested in these tokens by buying them during the ongoing D2T token presale. The third pre-sale for these tokens has commenced, and 1 D2T token is now available for 0.0513 USDT. Pre-sale sales reached more than $7.6 million at that time.
Tora Inu (TORA)
Tora Inu has a number of P2E games planned in addition to a future metaverse integration where users may compete with their Tora Inu NFTs for additional TORA. Your Tora will grow with you in the metaverse, and as it grows stronger, it will be able to bestow greater gifts on you. You might feed it, walk it, or even take it to the gym with you.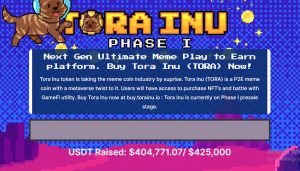 The reward token and the "TORA" meme help to balance supply and demand. The token contains a burnout mechanism and a means to reward holders. Tora Inu intends to effectively develop a play-to-earn environment by utilizing meme money, NFT, and metaverse trends.
⭐️The new star #ToraInu is in town!

🤑#Tora has raised over $400,000!

🚀We will begin preparations for the launch coming on 12/15/2022 with AMA's, Shilling Competitions, Influencer marketing and more.

🐶Stay tuned for the next big #doge token. pic.twitter.com/sAA1TKqu7T

— Tora Inu (@torainucoin) November 30, 2022
Investors have rushed to TORA during the project's current presale, anticipating a 100X gain the following year.
Calvaria (RIA)
Calvaria, a brand-new cryptocurrency project, is built around play-to-earn tactics. The project's goal is to increase public acceptance of cryptocurrency by building a spectacular card game of battle modeled on video games such as Magic the Gathering. The platform hopes to be successful by striving to bridge the gap between the real world and cryptocurrencies.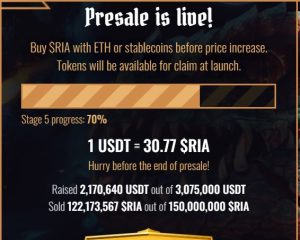 The free account will also provide crucial information about the cryptocurrency project in order to educate a larger audience about its unique characteristics. If Calvaria is a breakthrough, it may contribute more to the development of bitcoin use than any other blockchain game to date.
Calvaria enables players to earn tokens by in-game participation and contributions to its ecosystem. This card game developed the eRIA and RIA tokens as rewards to provide economic stability to the ecosystem and credit players during the game

— faithgen (@Faithcoinz) November 29, 2022
The RIA presale has reached stage 5, and it is now accessible to the entire public. Calvaria has raised $2.1 million USDT out of a total of $3,075,000 USDT. USDT has gotten a good response from cryptocurrency enthusiasts who play for profit.
Calvaria is shaping up to be a star in the crypto gaming space, with the developers revealing that the presale for its native RIA coin would end in the fifth stage. #CryptoNews #tradingintell pic.twitter.com/nqzgnPwcOz

— Trading Intellect (@tradingintell) November 26, 2022
According to these numbers, 121 million RIA tokens have been sold. This peer-to-peer cryptocurrency company has sold almost 70% of its Stage 5 presale. At the time of writing, 1 USDT equaled 33.33 RIA.
Tamadoge (TAMA)
Tamadoge is the next affordable cryptocurrency for 2023. It is the acceptable payment option on the Tamaberse platform, where users may create and breed virtual animals. Following that, you may compete in user fights to climb the TAMA leaderboards and collect monthly rewards.
TAMA is now traded on a number of platforms and is rising in popularity among cryptocurrency enthusiasts as a reliable and high-potential asset.
Get Your Hands One Of The Most Hyped #Memecoins Of All Time!😎

Join The Club! Buy $TAMA NOW On @OKX🏃https://t.co/eCOwGb8bRD#memecoin #tamadodge #crypto pic.twitter.com/eqq9Ss5i3L

— TAMADOGE (@Tamadogecoin) November 30, 2022
One of its biggest characteristics is the potential deflationary nature of a cryptocurrency like this one, which implies that it will ultimately reduce the quantity that is now available. The present Tamadoge price is $0.020 with a $1 million 24-hour trading volume.
The price of Tamadoge has risen by more than 3% in the last 24 hours and it currently ranked 2756 on the market. The maximum supply of TAMA coins is 2,000,000,000,000.
Related:
Dash 2 Trade – High Potential Presale
Active Presale Live Now – dash2trade.com
Native Token of Crypto Signals Ecosystem
KYC Verified & Audited