WEMIX has continued its rally, trading at $1.96 in the market today. It has stayed above $1 since February 3, 2023, and is still making progress on the price chart. In addition, WEMIX serves as an exchange tool for paying gas fees.
Its utility might be one of the reasons behind its current uptrend. Also, the current uptrend in the general crypto market might be pushing it up. But will the token continue its upward journey? Keep reading to find what the chart indicates. 
Is WEMIX Progressing More Than Others?
WEMIX has engaged in developmental strides recently. Crypto projects benefit from community-based development and often record a price surge when more users join the community. Here are some of the latest trends on the network.
WEMADE To Publish R1B
WEMADE creators of WEMIX have published a blockchain-based baseball game, Round 1 Baseball (R1B), by Round 1 Studio. R1B is the first game to launch on the R1 Metaverse, a token-based blockchain sports metaverse.
Wemade to publish #R1B, a blockchain baseball game, by Round 1 Studio

Medium: https://t.co/WlSQdXrQbA

[Summary]– The 1st game of Round1 Metaverse, a token-based blockchain sports metaverse
– Based on the official MLB license
– To be launched in 170+ countries via #WEMIX PLAY

— WEMIX (@WemixNetwork) February 17, 2023
Gamers will access features like real characters, high-quality graphics, and more. In addition, users receive the utility token Money Ball for playing this game and staking tokens to get an R1 token. R1 is the governance token on the R1 Metaverse.
The game is in the last stages of development and will launch before the end of 2023. There are plans to make it available in 170 countries. Also, Wemade's blockchain game platform, Apple App Store, WEMIX PLAY, and Google Play will feature this game.
WEMIX Unveils Kanvas
WEMIX network unveiled Kanvas, the first Korean Ethereum Layer 2 project, at Blockchain Fest 2023 held in Singapore. Layer 1 of the blockchain struggled with numerous transactions, decreasing the speed and increasing the gas fees. Layer 2 seeks to resolve these issues.
WEMIX Kanvas intends to start with a ZK roll-up technology. The Testnet is fixed for the first quarter of 2023, while the mainnet will launch in June 2023. As a result, the WEMIX Kanvas will guarantee users lower transaction fees and speed up transactions to less than an hour.
#WEMIX Kanvas, the first Korean Ethereum Layer 2 project, unveiled!

Medium: https://t.co/0D02Tac6rQ

– The first Korean EVM-Equivalent ZK Rollup
– Layer 2 provides faster transaction, lower fee and reliability
– Complete transition to ZK Rollup by the end of 2024

— WEMIX (@WemixNetwork) February 17, 2023
Decentralized Applications (DApps) previously on the Ethereum blockchain can be added directly to the platform without significant updates. Also, WEMIX 3.0, based on the Ethereum Virtual Machine (EVM), is compatible with the WEMIX Kanvas.
The WEMIX Coin will serve as the governance token on WEMIX Kanvas and work on layer 2 of the WEMIX mainnet. It will enable the expansion of the WEMIX ecosystem to accommodate other blockchains on the network.
WEMADE Launches WeKonomy
WEMADE, the parent company of WEMIX, unveiled a project called WeKonomy, to develop the global digital economy. WeKonomy projects will provide users with services such as DeFi, NFTs, and a connection to the Metaverse.
Kurrency, Konverter, KLEVA, Wezard, and Weshlist are some listed sub-platforms on the network. Kurrency is a collateral-backed crypto dollar service and will launch in the first quarter of 2023. Users can mint, deposit, and swap tokens called WCDs with Kurrency. These WCD tokens will power WeKonomy's economic system and aim to be recognized as the most reliable and adopted DeFi currency.
#Wemade unveils #WeKonomy, a new comprehensive #blockchain project

– #Synergistic effects from #DeFi, #NFT, & #metaverse services
– Focus on efficient management & comprehensive economic structure
– To create #global #digital economyhttps://t.co/6SVsSXAvfW#WEMIX #P2E

— WEMIX (@WemixNetwork) December 16, 2022
Konverter is a decentralized exchange (DEX) on the WeKonomy ecosystem. Users will access the assets swap and improve on the existing DEX services. It will launch in the second quarter of 2023.
Wezard is a decentralized derivatives exchange that operates with liquidity providers. It supports trading activities and protects users from slippage and impermanent loss, an issue of interest among traders.
Weshlist is the NFT marketplace on the ecosystem that will link Korean and global projects with the market. Its innovative features include a launchpad, aggregator, and multichain support, for users. WeKonomy will probably revolutionize the decentralized finance industry and bring growth to the ecosystem.
WEMIX Buyback And Burn Event significant in Current Rally
The WEMIX Foundation announced the BuyBack and Burn campaign of 10 million USD worth of tokens. Burning tokens serve as a deflationary measure to protect the price of an asset. WEMIX tokens circulating supply decreased after the burn.
#WEMIX Buyback & Burn(1 of 3)

Medium announcement : https://t.co/g4RV3aZRhM

Today we are sharing the 1st WEMIX Buyback & Burn intermediate report, and two more will be announced.

Buyback amount: 7,901,403.62 WEMIX
1st Buyback: 3,000,000 USD
Avg. price: 0.3797 USD

— WEMIX (@WemixNetwork) January 6, 2023
Most cryptocurrencies use a burning mechanism to keep the price under control. As a result, few tokens in circulation can increase the demand for an asset and add to its value.
WEMIX Introduces Fan Token
WEMIX introduced a fan token in January 2023. The fan token is an interactive donating system where creators and fans can grow together. Both parties can benefit when they purchase these fan tokens, which can increase in value.
1/ Wemix introduces revolutionary Fan Tokens for creators to engage with their communities! Thread👇

— WEMIX (@WemixNetwork) January 20, 2023
The fan tokens use a unique high-water mark minting mechanism that only allows tokens to mint when the price increases. A thousand tokens mint whenever the price increases by $0.01 in 24 hours. Also, The new tokens are stored in a vault until the creator withdraws them. The fans can check the status of the vault and the tokens.
WEMIX Lists On Coinone
WEMIX is approved for listing on Coinone, a popular crypto exchange in Korea. This move reflects the desire of the development team to expand the ecosystem and can fuel growth and adoption in the crypto community.
Listing a cryptocurrency on an exchange sometimes increases its price, a welcome development for all projects.
WEMIX Unveils MIR M Video game
WEMIX developers unveiled plans to launch MIR M, a blockchain-based game, in 2023. This game operates in the universe of Mir games. Although the game is only available in Korea, there are plans to develop a worldwide version.
 It is a play-to-earn game and will seek to reward users on the platform. It has great in-game graphics and is a captivating adventure game. Users create characters and develop them to progress in the game. Also, there are daily tasks to complete for rewards.
Schedules for the Official Launch of #MIRM
#WEMIX PLAY Medium Announcement : https://t.co/6Y63OouV7h

👉Launching Date
Jan. 31st, 2023, 12:00 (UTC+8)

Pre-registration is still ongoing for the official launch!

Official MIR M page : https://t.co/lT0Ok4dHQA

— WEMIX (@WemixNetwork) January 9, 2023
Players can earn money by selling personal items in the game as NFTs. Also, there will be community-based activities in various clans where earning opportunities will be available. A powerful clan will yield more profit for members, and its creation and development are critical.
MIRM promises to give users a fresh experience with blockchain gaming and a more community-focused method of earning
WEMIX Price Prediction
WEMIX is on an uptrend today, trading at $1.92 with some slight fluctuations. The current price represents an increase of approximately 8% for the asset. It entered into the current uptrend on February 13, 2023, and has posted five consecutive green candles on the price chart, confirming the trend.
Also, it is trading above its 50-day and 200-day Simple Moving Averages (SMA), which is a bullish signal. It means that the asset's price for the short-term and long-term is bullish. The Relative Strength Index (RSI) is at 77.34, which is in the overbought zone. The indicator has moved above its channel, reflecting the bullish pressure in the market.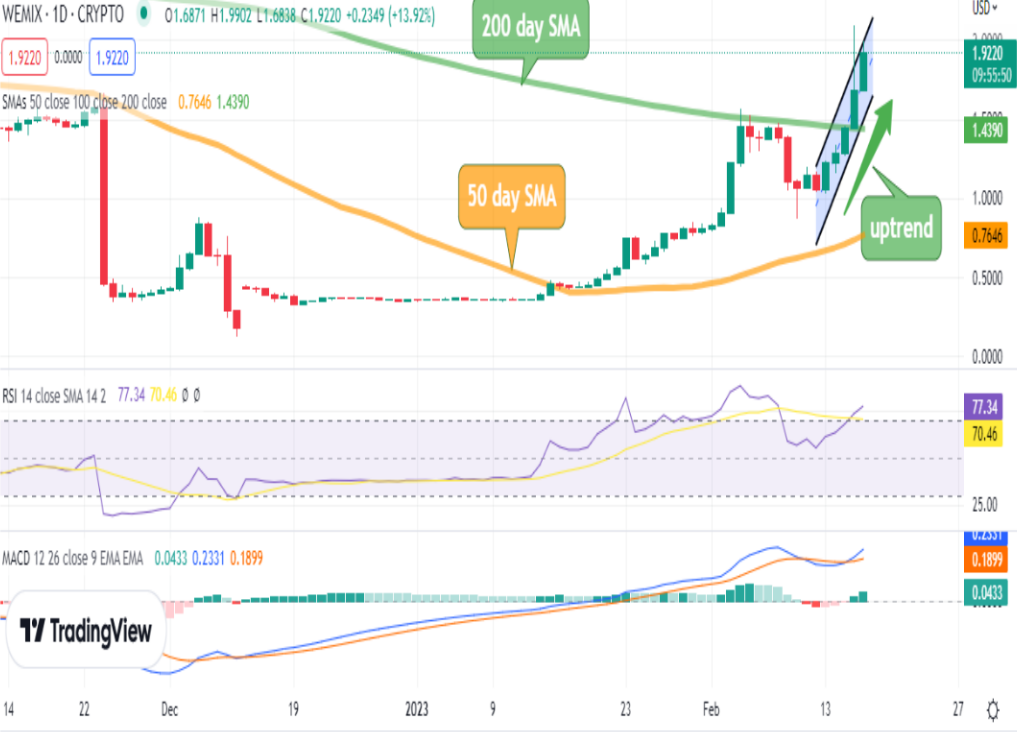 WEMIX's Moving Average Convergence/Divergence (MACD) is above its signal line and showing divergence, which is a bullish signal. The support levels are $0.91, $1.17, and $1.45; the resistance levels are $2.01, $2.27, and $2.55. 
WEMIX is closing in on the $2.01 price level. It will likely break past the resistance before a slight retracement to consolidate its gains. 
But note that cryptocurrencies are volatile and can deviate from a predicted price direction. Therefore, risk management and technical analysis knowledge is essential for crypto traders.
 Ongoing Token Presale To Consider Now
There are ongoing altcoin presales that can reward you. They are innovative and will reward early investors eventually.
FightOut (FGHT) 
FightOut is a move-to-earn (M2E) project that will reward users for engaging in physical activities. The platform has long and short-term goals promoting fitness and a healthy lifestyle. Users can access personal fitness plans and exercise on the go with the mobile app.
Its presale has raised $4.2 million, with a few days left to the next round, which will usher in a higher price. FGHT tokens will reward early investors when the price increases after it lists on exchanges.
Fight Out (FGHT) – Newest Move to Earn Project
CertiK audited & CoinSniper KYC Verified
Early Stage Presale Live Now
Earn Free Crypto & Meet Fitness Goals
LBank Labs Project
Partnered with Transak, Block Media
Staking Rewards & Bonuses