The cryptocurrency market is back to the glory it displayed in January, with Bitcoin being the closest to reaching $25,000 in the last six months. It's tough to be on the lookout for promising and high-potential cryptocurrencies in such an exciting market since every project seems to be doing well.
But, in order to make your job easier, we've researched the market for the top gainers on Sunday, and we have a few recommendations that you can consider adding to your portfolio.
1. Chainlink (LINK)
Chainlink's LINK is up by more than 30% over the week, trading at a price last seen in November 2022. With a rank of #21 on Coinmarketcap, LINK may be one of the best projects to invest in right now.
Blockchains differ in terms of what they're made for since every blockchain is intended for a specific function. But communication among blockchains is important for the crypto ecosystem to function and that's where Chainlink comes in.
Chainlink is an oracle network that is decentralized and operates on blockchain technology. The network enables secure communication between smart contracts and external real-world data and services. By providing access to data that exists outside of the blockchain, Chainlink enhances the capabilities of smart contracts. It does this while retaining the security and dependability associated with blockchain technology.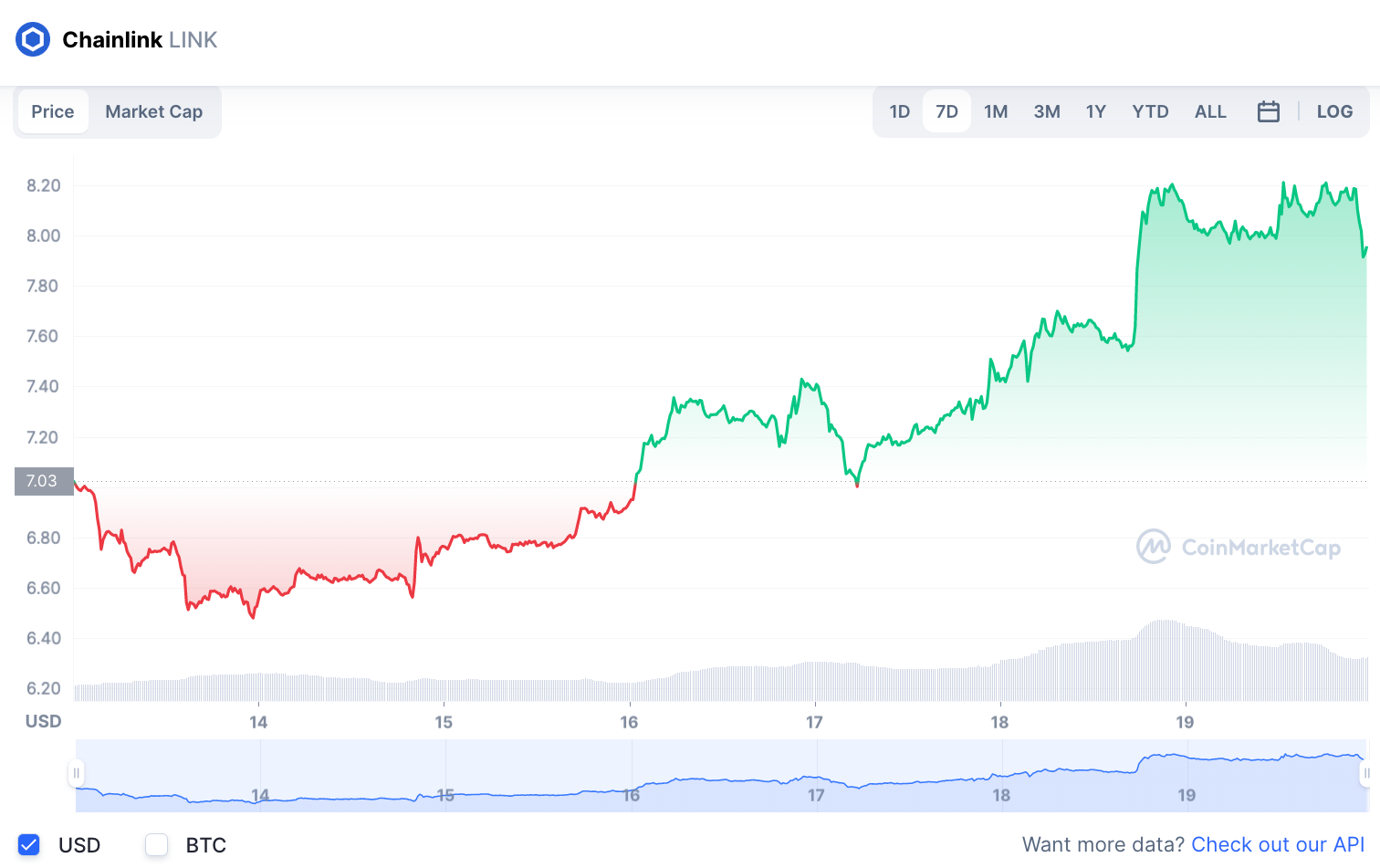 Chainlink can be used for pricing assets such as decentralized applications and settling smart contracts. LINK token powers the network and is used to compensate node operations for their contribution to keeping the network functional. The project has come a long way since its launch in 2017 and makes up a great option to add to your portfolio. It is currently trading at around $8 and may be looking at some more upward movement in the upcoming days.
2. Filecoin (FIL)
Filecoin rose by 25% on Sunday and has almost doubled in less than a week. Investors are now eying the token up close, and it may just be the asset to look at for the rest of February.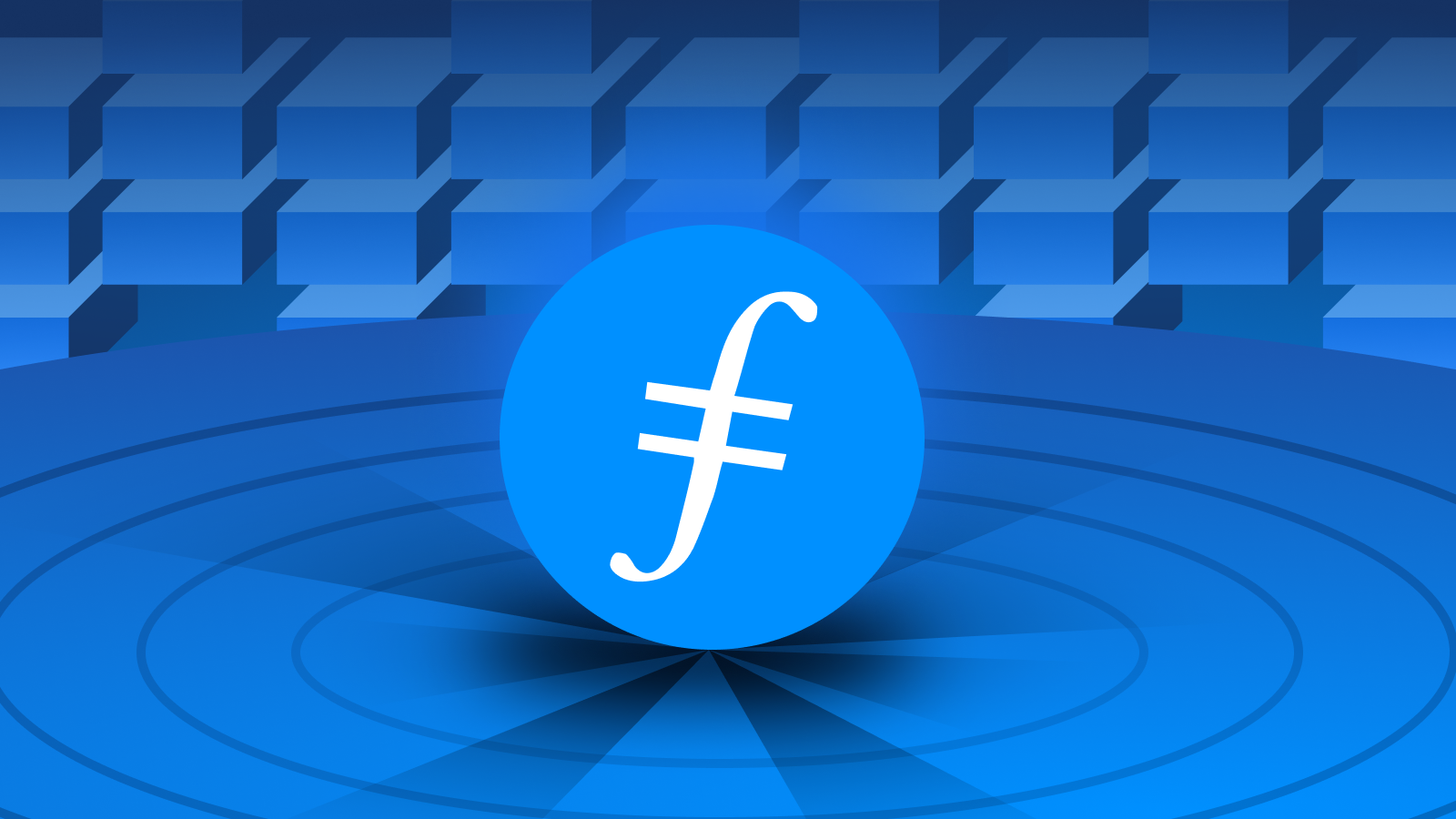 It is a crypto project that allows users to rent the storage space on their computer, which reduces the cost of using a blockchain while improving the scalability and safety of the network. While this does make the network slow, Filecoin presents a great option to use up space that's anyway dormant.
The platform segregates data on multiple devices, making it harder for hackers to gain access to a user's files. Plus, the platform is completely decentralized, taking away all the storage restrictions put in place by a centralized authority such as the government.
Filecoin's potential was visible during its introduction itself when it raised over $200 million in its initial coin offering in 2017. Currently, FIL has a market cap of over $3.4 billion and is one of the most promising cryptocurrencies in the space.
3. Fight Out (FGHT)
The fitness industry has been quite stagnant for decades, with almost little to no improvements that help attract a greater audience. Fight Out plans to change this, by introducing a holistic platform that makes fitness not only accessible but exciting.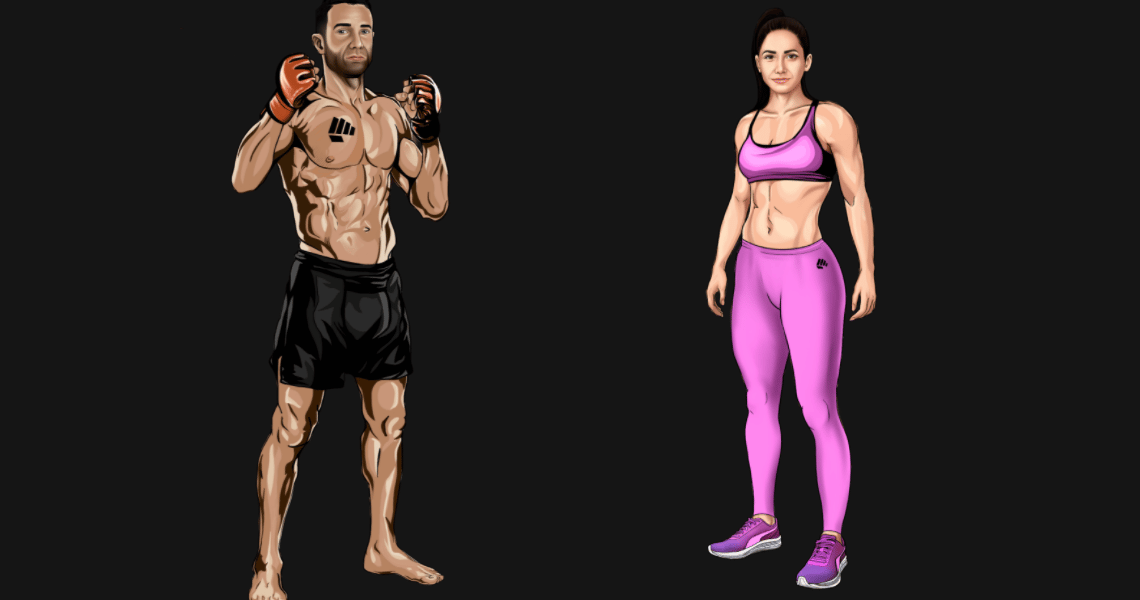 The project features a mobile app that'll feature step-by-step tutorials for both beginners and advanced fitness enthusiasts, so they can educate themselves more effectively. The platform will also have detailed instructional videos from industry experts, where users can receive customized advice on how to go about their fitness regimes.
The platform has onboarded professional athletes and MMA champions, who will be conducting challenges and workshops in physical gyms. Fight Out will collaborate with the best gyms in an area as well as introduce their own gyms, starting with 20 gyms at various locations.
Moreover, users can access the Fight Out app for free, or pay a subscription to access advanced features, such as exclusive content or entry to physical gyms. Every user will have a digital avatar in the form of an NFT, that'll reflect all the progress they've made. These avatars can also be seen in Fight Out gyms, on a virtual screen, to give an accurate picture of a user's fitness.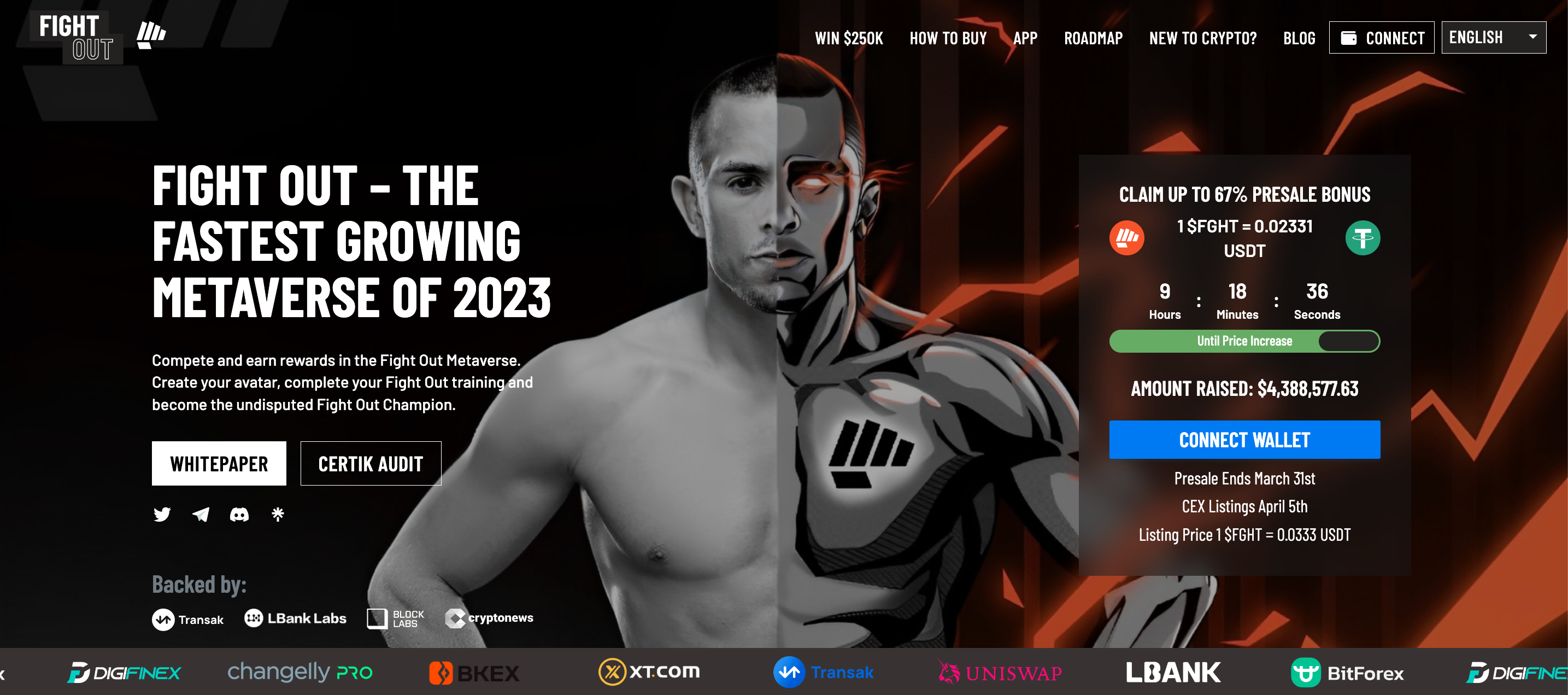 Challenges will be rewarded with REPS tokens, since Fight Out follows the concept of move-to-earn, incentivising users to use the platform. Subscription payments, on the other hand, can be done with FGHT tokens, the native utility token of the platform. FGHT tokens can also be used for all other transactions inside the app or traded individually.
If you want to get in on the project early, you can participate in the presale that's currently live on the website. Here, FHGT tokens can be purchased for 0.02331 USDT at the time of writing. And this price will increase progressively until the end of the presale, after which the tokens will be listed on centralized exchanges as of April 5th.
4. C+Charge (CCHG)
The lack of uniformity with EV charging payments across the world has been a highly limiting factor for EV adoption across the globe. This has to stop somewhere and C+Charge is here to change that.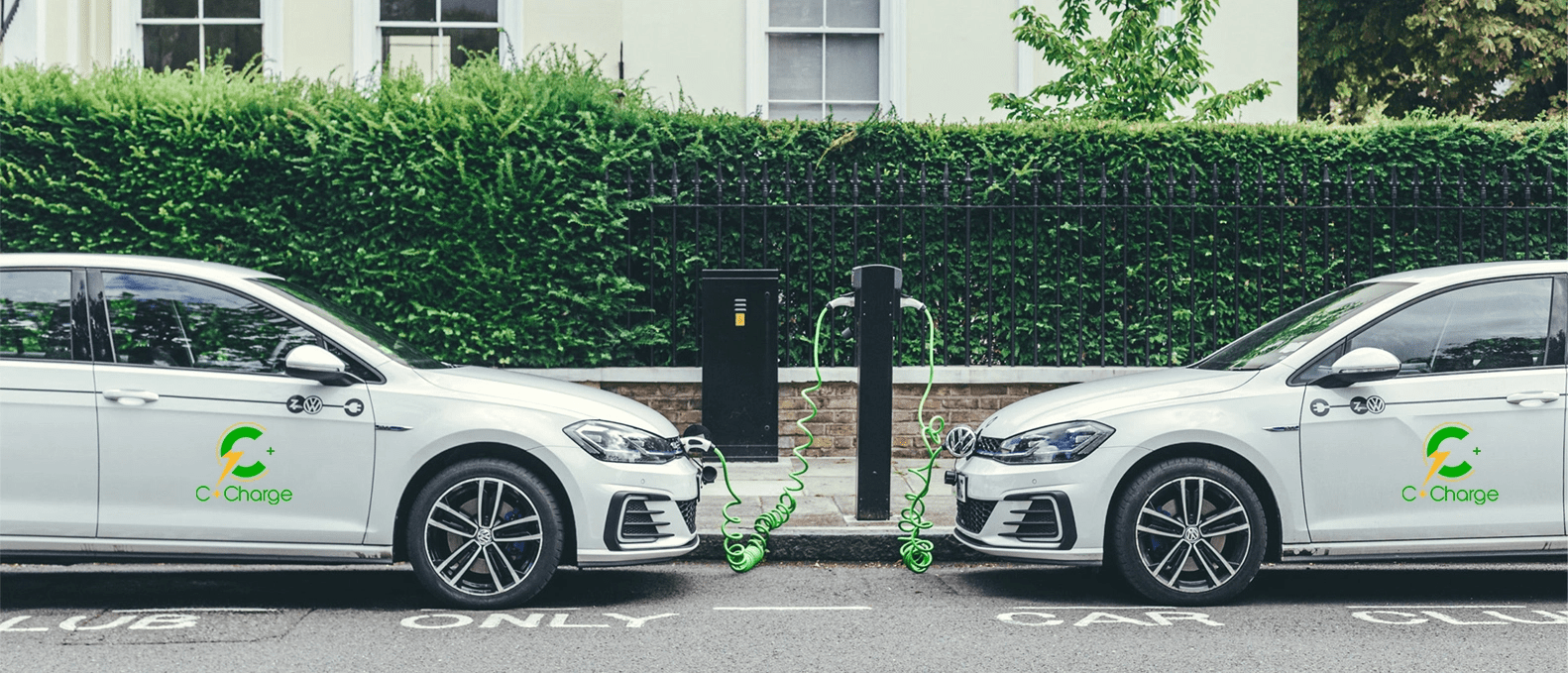 C+Charge introduces a common method of payment across all EV charging stations that'll reduce the inconvenience of switching through multiple payment methods every time you have to fuel your vehicle. CCHG, the native token of the platform, will be used to pay for EV charging, across the network of charging stations under C+Charge's belt.
The platform not only plans to create a network of charging stations but also aims to introduce charging stations of its own. This makes sure that there isn't a situation where a customer runs low on charge and can't find a place to recharge their vehicle.
In addition to introducing a common way of payment, that platform will also integrate the use of carbon credits into the EV economy. Every time a customer pays for a charge with CCHG tokens, they will receive carbon credits in return. These credits can be sold individually or converted to CCHG tokens, effectively reducing the price for a charge.

The platform will also provide a diagnosis for vehicles, to ensure that a vehicle is in optimal condition, especially before long commutes.
All these offerings have attracted a lot of attention towards the project, as it has raised over $1.26 million in its presale so far. Currently, in stage 3 of the presale, CCHG tokens are available to purchase for 0.016 USDT, and the project will have its first CEX launch on March 31st, 2023. Hurry before the token price increases to 0.017 USDT, as the presale progresses in the next round in less than three days.
5. Metropoly (METRO)
Metropoly is the first real estate NFT marketplace that recently launched its beta version, and the platform is open to anyone who's interested in purchasing NFT real estate.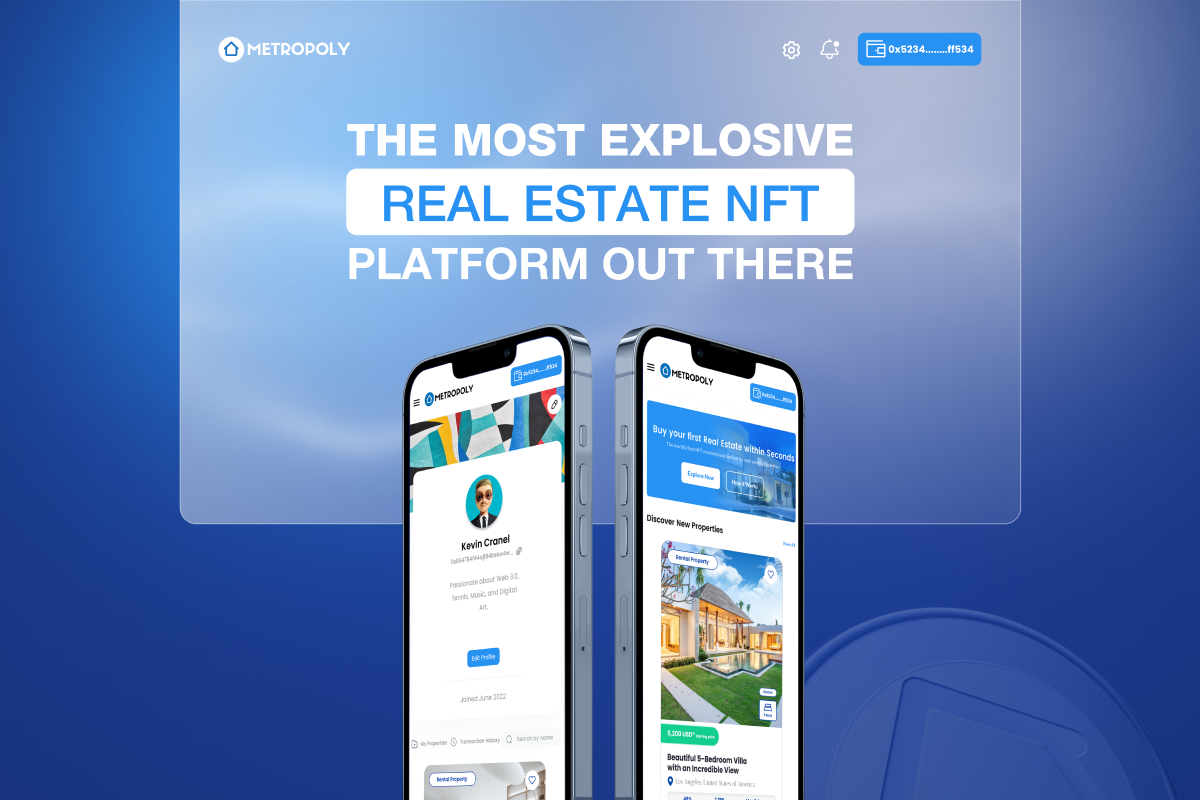 Imagine all the benefits of investing in real estate but from the comfort of your home. Holders of real estate NFTs get a range of benefits from real estate ownership, such as appreciation of the property value, and passive income opportunities such as leases.
Metropoly includes a marketplace, auctions, and mortgages, and there is a designated area to monitor monthly payouts made directly to users' wallets in USDT. The project has launched a giveaway where players get access to a million-dollar apartment in Burj Khalifa, which can be rented for a yearly income of up to $100k.
METRO token is at the centre of the project ecosystem, currently available to purchase under a presale. So far, the presale has raised over $520,000 and METRO tokens are available for purchase at $0.0625. These tokens can be purchased with ETH, USDT or BNB.
The platform will allow investors to own a fraction of a property, for as little as $100, without any credit history or paperwork. This democratization of the platform is done to change the way investing is done traditionally, where only the document of ownership can take 60 days to arrive.
Metropoly has, to some extent, expanded only a part of Sandbox and made it easier and accessible for a wider user base. These fundamentals of the project make it one of the most interesting concepts in the crypto market right now, showing a lot of potential. Invest in the project now to gain listing gains of up to 60%, considering you purchase the token as early as possible.
6. RobotEra (TARO)
RobotEra is an all-new crypto project that builds on the foundation of Sandbox, offering a Minecraft-like metaverse experience with Taro. The platform leverages narrative-driven gameplay, where Taro, a planet destroyed by an army of robots, needs to be brought back to life.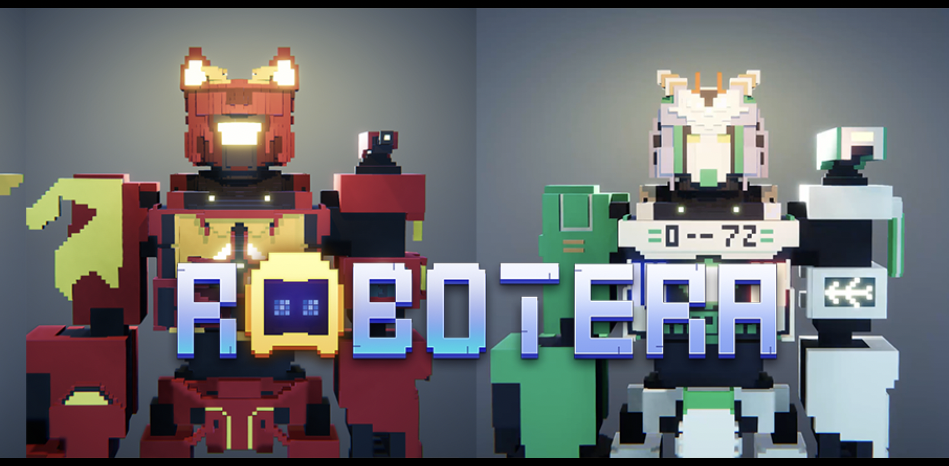 Robots, responsible for the death of inhabitants of Taro, are now cursed with human-like thoughts and emotions and tasked with building an ecosystem on Taro. The economy of the planet must support 10,000 robots, and players must work together to accomplish this goal. Players that pledge their tokens will receive governance rights that'll influence the future of the planet.
The platform builds on the foundation of play-to-earn where players earn TARO tokens, the native utility token of the platform when they complete certain tasks. These tasks can include mining, exploration and partaking in battles.
In addition to that, players can also earn money by staking or selling their NFTs inside the game. NFTs can be representative of robots, robot companions or assets inside the game. Robot companions can be generated by players and will help them sustain the economy more effectively, by completing tasks on behalf of the player.
Players can also own land inside the metaverse, and sell it when it grows in value or build infrastructure on it to open up alternative sources of revenue. Additionally, players can also participate in the RobotEra DAO to make positive suggestions for the metaverse, and those selected will be rewarded proportionally from the reward pool.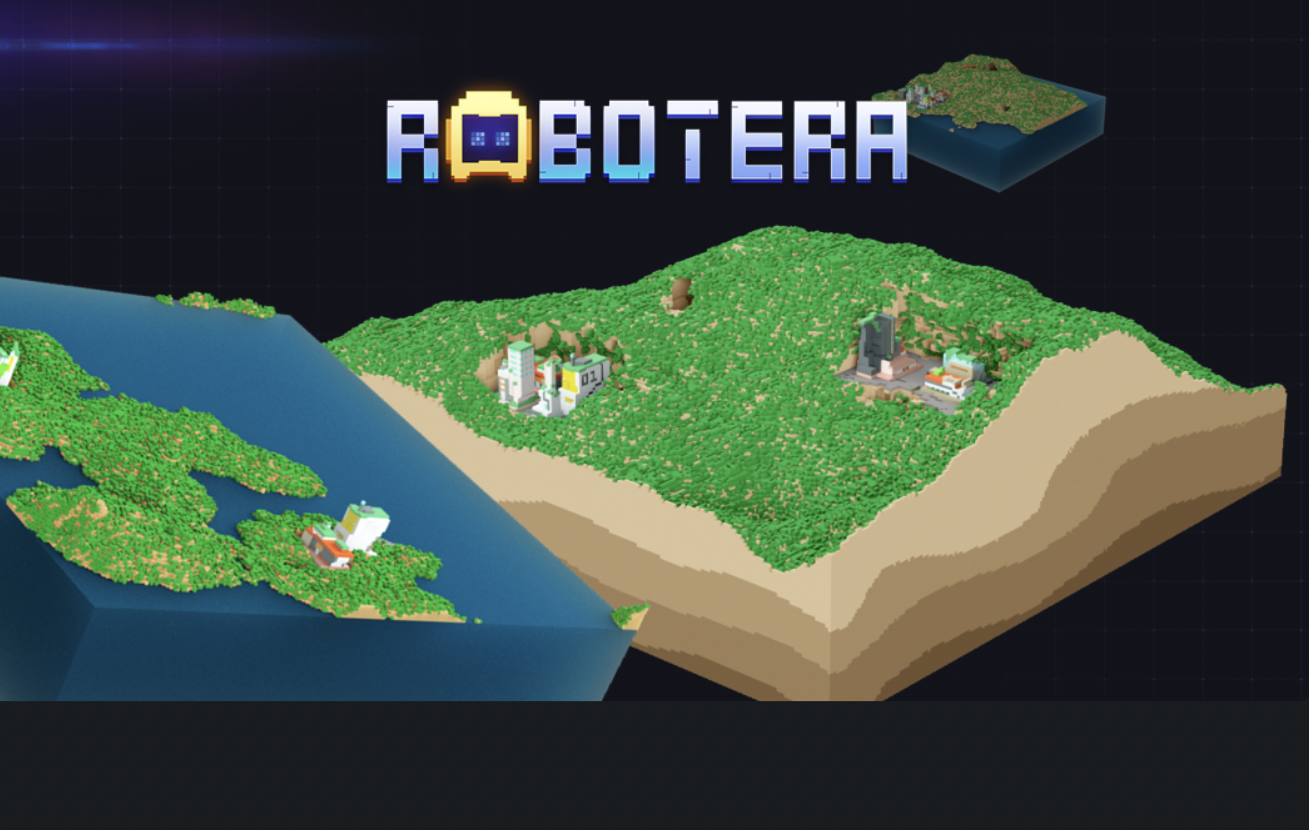 Become a part of RobotEra by investing in the presale, currently live on the RobotEra website. Users can purchase TARO tokens for $0.020 during the first round of the presale, while the price will increase to $0.025 once the presale progresses to the next round. One thing to remember is that there is a minimum requirement of 1,000 tokens to be bought in order to be eligible for purchase.
Conclusion
In this article, we took a look at the top gainers for the day as well as a few exciting crypto projects in their presale stages that might just make it to the top of their niches. With that being said, remember to invest responsibly and conduct proper research before investing in any crypto project.
Read More:
Fight Out (FGHT) – Newest Move to Earn Project
CertiK audited & CoinSniper KYC Verified
Early Stage Presale Live Now
Earn Free Crypto & Meet Fitness Goals
LBank Labs Project
Partnered with Transak, Block Media
Staking Rewards & Bonuses